Solution Talk Latest Mediation & Conflict Coaching Outcomes
Resolved – 86% of our cases were closed as resolved due to:

an agreement being reached at a joint or shuttle meeting

coping strategies in place (conflict coaching)

situation peaceful following visits with mediators
Not Resolved – 7% of our cases were not resolved (one case closed as not resolved was reopened and subsequently closed as resolved)
Unable to Continue – in 7% of our cases we were unable to continue due to police / enforcement action being taken or following an initial enquiry to our service from which no referral was received
Forthcoming Training Days
17 January

2018 -

1 day Conflict Coaching Workshop in Manchester. Early booking discount price just £105, standard price £139 per person. To register your interest and for more information please email us - info@solutiontalk.co.uk. Just 2 places remaining - book now to avoid missing out.
27 February 2018 - 10am to 3pm - NORTH WEST MEDIATION NETWORK DAY - "What Does Mediation Mean To You" by Faye Bussin BA (Hons) AMCM, Manchester Mediators & "The LGBT Family in Mediation" by Stuart Hanson FMCA, Direct Mediation Services @ Shoosmiths, The XYZ Building, 2 Hardman Boulevard, Spinningfields, Manchester, M3 3AZ. To register your interest and for more information please email us -
To see feedback from our training please see our Testimonials page.
Interim Report for Mediation & Conflict Coaching Services
Solution Talk is pleased to share with you our Interim Report, dated September 2017, which is designed to provide an overview of the work we have carried out over the last 9 months. During this period, we have provided mediation and conflict coaching services to several local authorities, housing providers and private organisations to help them resolve neighbour, family & workplace disputes; as well as to provide support for people to help them develop coping strategies and enable them to identify practical ways of managing difficult situations.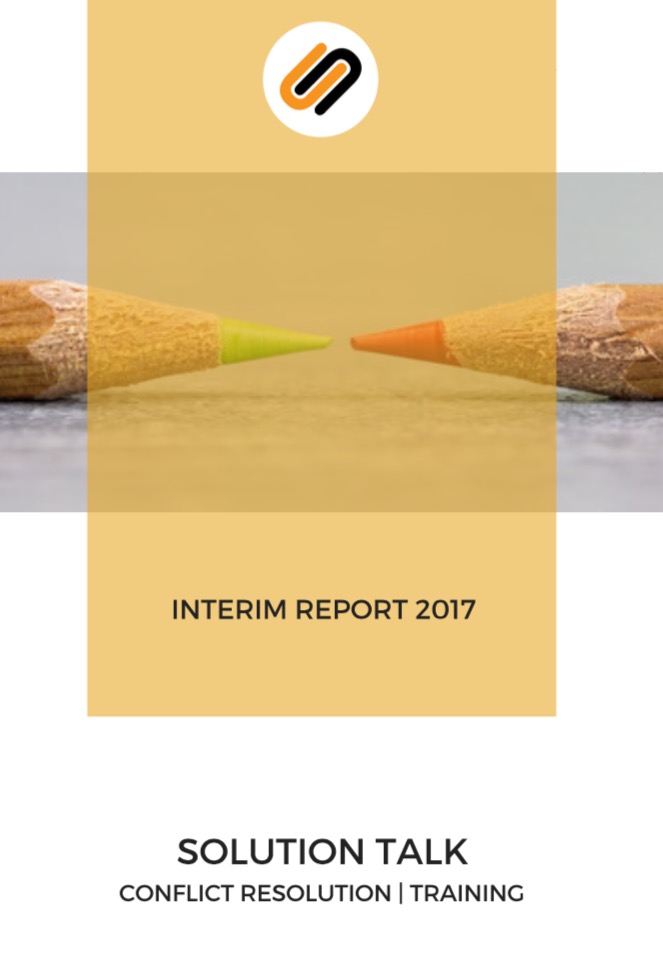 Mediation Community Conference 2018 - the College of Mediators will shortly be announcing the date for its second Mediation Community Conference, following on from the success in it's inaugural event in September 2017 at Loughborough. Date to be announced shortly. For further information email the College of Mediators