SOLUTION TALK HALF YEAR REPORT 2019
Solution Talk continues to grow and goes from strength to strength, having seen a 23% increase in referrals to its service during the first six months of 2019 when compared to the same period in 2018. Our Half Yearly Report provides an overview of the work we have carried out from January to June 2019.
During this period, we have provided mediation, restorative justice and conflict coaching services to several local authorities, housing providers and private organisations, to assist them in resolving neighbour, family, SENDs, tenant / landlord & workplace disputes; as well as supporting people to develop coping strategies and enable them to identify practical ways of managing difficult situations.
HIGHLY COMMENDED AT NATIONAL MEDIATION AWARDS 2018

Solution Talk are absolutely thrilled to have been Highly Commended in the Mediation Programme of the Year category at the National Mediation Awards 2018. With huge thanks to everyone who has supported us.

SPECIAL EDUCATION NEEDS & DISABILITY ACCREDITED MEDIATORS


Having worked as a SENDs mediator for a number of years we are delighted to now have two of our mediators on the College Of Mediators & Civil Mediation Council register of Special Educational Needs & Disability Accredited Mediators (supported by the Department for Education).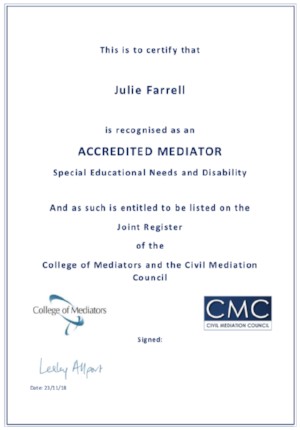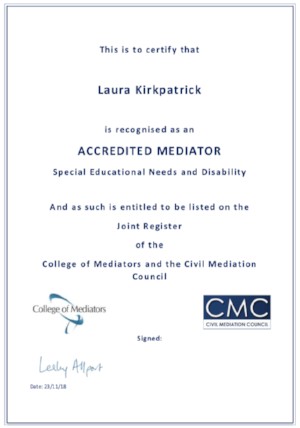 FORTHCOMING TRAINING DAYS
25 September 2019

- SOUTH EAST MEDIATION NETWORK

- email admin@collegeofmediators.co.uk



16 October 2019 - NORTH WEST MEDIATION NETWORK - email info@solutiontalk.co.uk

7 November 2019

- NORTH EAST MEDIATION NETWORK

-

email admin@collegeofmediators.co.uk



19 November 2019 - MIDLANDS MEDIATION NETWORK - email eventsinformation@midlandsmediationnetwork.co.uk
16, 23, 30 January and 6, 13 February 2020 - Mediation Foundation Training Course - email info@solutiontalk.co.uk

To register your interest for any of these please use the contact information above or email - info@solutiontalk.co.uk

To see feedback from our training please see our Testimonials page.