CORONA VIRUS - SERVICE UPDATE

In the current climate with concerns over Corona Virus Solution Talk is able to offer remote mediation, conflict coaching and telephone support services either online (Zoom, Skype), by telephone (video, Face Time) and via email as an alternative to face to face meetings. Please contact us to discuss further or for a copy of our COVID19 policy.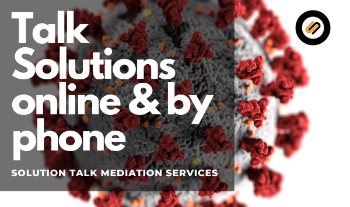 Our flexible approach to delivering our mediation service in this current climate is evident in feedback received from one referrer following closure of a mediation case - "Just to say a huge thank you, under the current stark situation we are facing with COVID-19 you still did not delay the case even when faced with meeting rooms being cancelled etc and came up with an alternative solution for the parties involved so that there was no further delay and an agreement has been reached – great outcome!!! Thanks – as always you got the job done!!!
Following a zoom online meeting with two neighbours in dispute over a noise issue here is what one of them told us about their experience "I thought it went really well. I'm very hopeful that things will remain civil between us and we can put the previous few months behind us. Thanks again for your efforts in helping us turn this corner, it's very much appreciated."

SOLUTION TALK ANNUAL REPORT 2020 - A YEAR IN REVIEW
2019 has seen Solution Talk continue to grow and go from strength to strength, having seen a 9% increase in referrals to its service during 2019 when compared to 2018. Our Annual Report provides an overview of the work we have carried out from January to December 2019.
During this period, we have provided mediation, restorative justice and conflict coaching services to several local authorities, housing providers and private organisations, to assist them in resolving neighbour, family, SENDs, tenant/landlord & workplace disputes; as well as supporting people to develop coping strategies and enable them to identify practical ways of managing difficult situations.
Solution Talk has developed existing relationships with referrers and established numerous new ones; our reputation for prioritising our customer needs and delivering an excellent service is spreading.
For a copy of our Annual Report please email us - info@solutiontalk.co.uk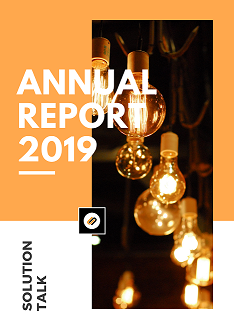 INTERPERSONAL MEDIATION SKILLS FOUNDATION COURSE - COURSE RENEWAL APPROVED

Solution Talk recently submitted its Interpersonal Mediation Skills Foundation Course to the College of Mediators for its approved to be renewed and are delighted to say that our renewal submission was successful. Feedback from the assessors told us that they thought it was an "excellent submission and they had no hesitation in passing it . They said it was a joy to read and the evaluation forms were very positive and thoughtful. They were impressed with how you took on board any changes requested by delegates"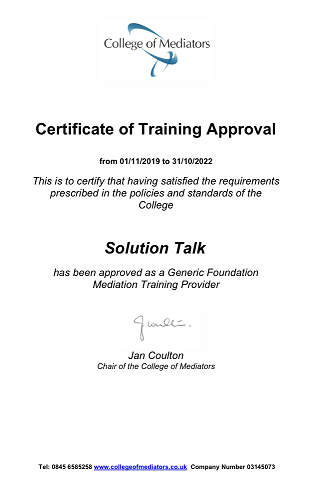 HIGHLY COMMENDED AT NATIONAL MEDIATION AWARDS 2018

Solution Talk are absolutely thrilled to have been Highly Commended in the Mediation Programme of the Year category at the National Mediation Awards 2018. With huge thanks to everyone who has supported us.

FORTHCOMING TRAINING DAYS
11 June 2020

-

North West Mediation Network Event

@ Manchester. For more information and to book a place email -

info@solutiontalk.co.uk




23 September 2020

- NATIONAL MEDIATION AWARDS in Manchester - more details to follow
To register your interest for any of these please use the contact information above or email - info@solutiontalk.co.uk

To see feedback from our training please see our Testimonials page.