Demand for Solution Talk's Services Grows

We have experienced a 47% increase in referrals to our service compared to the same time in 2017. More and more people are hearing about the excellent services we provide, the feedback from our customers speaks for itself. What are you waiting for?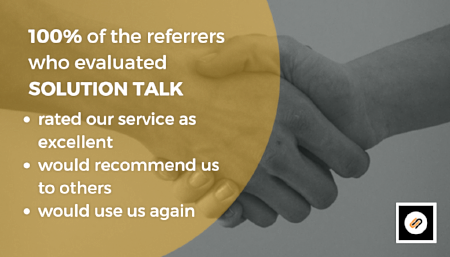 Solution Talk's Mid Year Report
Solution Talk is pleased to share with you it's Mid Year Report, covering the first six months of 2018. The report is designed to provide an overview of the work we have carried out over the last year. During this period, we have provided mediation, restorative justice and conflict coaching services to several local authorities, housing providers, private organisations and individuals to help them resolve neighbour, family, SENDs, civil & workplace disputes; as well as to provide coaching to people in conflict, to enable them to develop coping strategies and identify practical ways of managing difficult situations.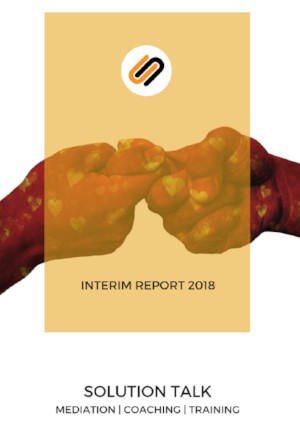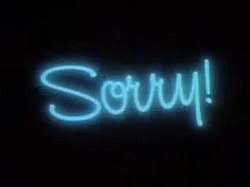 Our recent blog on The Power of Apology has been published in a recent edition of the US "Attorney Journal"
Why not check it out for yourself?
National Mediation Awards announced for 9 October 2018 in London - more details to follow shortly
Mediation Community Conference 2018 - the College of Mediators is delighted to announce the date for it's second Mediation Community Conference - 27 September 2018 @ CAB Milton Keynes. For more information contact us or email the College of Mediators
Forthcoming Training Days
10 October 2018 -

NORTH WEST MEDIATION NETWORK - see our Mediator Events page for details

14 November 2018 - NORTH EAST MEDIATION NETWORK - College of Mediators networking event

15 November 2018

- MIDLANDS MEDIATION NETWORK - email eventsinformation@midlandsmediationnetwork.co.uk for details




22 November 2018 - 10am to 4pm

- Managing Difficult Conversations Well

29 January 2019 - 10am to 4pm - Conflict Coaching
To register your interest for any of these please use the contact information above or email - info@solutiontalk.co.uk

To see feedback from our training please see our Testimonials page.